The developer has decided that if you want to hand-code your SQL queries and XML handlers, you're not in the market for a copy of WebPlus. There's an Office-like task pane on the right-hand side, where clicking 'Create a new chart' leads you to an appealing selection of templates. These, while not really usable as is, provide an excellent base from which to build.
This has freed them up to produce a brilliant piece of software for everyone bar those with a genuine need to work from the ground up. Add a few more rules along the same lines and charts mostly format themselves as you type the information into them. This is the route that Serif has chosen for WebPlus. OrgPlus will happily create charts from all kinds of data sources (LDAP, SQL Server, ODBC, OLE DB, spreadsheets and text files) and can include pictures, numeric fields. almost anything you like. It's also just as straightforward to change the box colour and style for selected parts of your chart on any of the templates provided (or to customise individual boxes for yourself).
Several appealed to us, but if you're not keen on what's provided you can always choose the Blank option and start from scratch. A major strength of WebPlus is that it's entirely possible to create a smart Web site including data-driven features, Flash animations, RSS feeds and all that good stuff without writing a single line of code. Smart Objects, you say? For Web functionality like password protection, e-commerce and analytics, server-side scripting is required. Satisfying all these extra real-life requirements has so far earned OrgPlus over half a million customers, but does that mean version 7 is worthy of your cash?
We decided to take a closer look. Edit your website with ease Got to resize a picture? Grab its corner handles and drag. But why stop at basic when there's so much more you can do? Each has the same pattern of 11 boxes, but with different box styles, colours and backgrounds.
Superior usability Of course, there are other new features as well: the ability to add comments to charts, a tree panel that offers a more database-like way to manage records, and a scheduler that can automatically email the latest version of your charts to your choice of recipients. There are even a couple of free ones – including WebPlus SE – but what makes WebPlus X2 worthy of consideration is its usability. This profile can now be edited in the box too, ensuring it's easy to maintain your chart once it's been built.
It's all so straightforward. isn't it? Everything from blogs to shops and galleries, all with variations and options to choose from. Click in a box and start typing to enter a name, then press [Tab] to enter a title, [Tab] again to move to the next box, and you can have a basic chart completed in about a minute. After playing around with the chart for a while you may decide you're not keen on the template you chose initially. Of course, when you're tasked with creating a chart and it has hundreds of boxes rather than five or six, and you need to share it with others, and maintain it over time with the minimum of hassle, then you realise this isn't such an easy task after all.
The new HTML charts are excellent: as well as seeing the chart itself, you get various zoom options, panels showing more information on whoever you've selected and an index letting you jump straight to a particular staff member. If you've got serious organisational needs then it's hard to imagine why you'd choose anything else.
Serif WebPlus X2 review
<
p>One of the biggest traumas of producing any Web site is the constant back and forth to image editors, browsers and FTP sites every time you decide on Toyota Rav4 1998 an alteration. This choice neatly avoids exposing the innards of the process to designers and enables Serif to update the modules without causing sites built with WebPlus to need any re-working. There's no point denying it, at first glance, creating an organisational chart doesn't seem to be the greatest of graphical challenges.
Draw one box at the top for the managing director, a row one level down for the other directors, and then just paste everyone else into their relative departments. OrgPlus allows you to define any area within a box as a hotspot: when the user moves their mouse over the hotspot, a box pops up displaying extra information. While we're on the subject of paradigms, WebPlus X2 comes with a well-thought-out selection of site templates. Don't worry about code Not the kind of stuff that'll shake Web 2.0 to its foundations, but if nothing else will provide you with some food for thought as you customise templates or build your own sites.
Better still, it's possible to create rules that let OrgPlus assign these styles for you. If you need to share organisational charts online then the HTML publishing capabilities alone could justify purchasing OrgPlus 7. Pulling together all that functionality, hiding the code generation and still making it a snappy experience is not an easy task. Even if you do decide that you need to employ an external application you'll be going equipped with the knowledge needed to make it a quick visit. It's now fully compatible with Vista and Office 2007 too.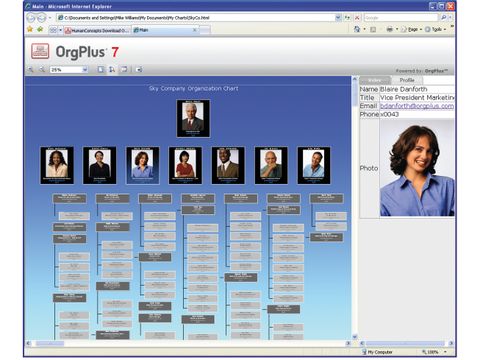 There are a number of WYSIWYG Web design packages available.
But that's fine – OrgPlus makes it easy to apply another whenever you like. WebPlus X2 will make a lot of people very happy. Meanwhile, the Smart Objects solution to more complicated features is clever, if not entirely satisfactory for those who like to keep everything "in house". Drawing tools are fairly standard and very easy to use.
However, WebPlus's goal is to free you from caring too much about code. Yet while it's code-free, WebPlus feels professional enough that you don't get the impression its developers think you're stupid. Obviously, cramming too much text into one box will make for an unwieldy chart, but the program has effective solutions here too.
Don't think you're restricted to working with the default Name and Title fields in a box either. Useful templates OrgPlus 7 is a fraction more expensive than we'd like though, and integration with Office 2000 has a few minor issues, but this represents another step forward for an already polished product. Fonts, colours, background properties, transparency. all are handled with ease. There's also a resource CD that contains some useful items – a good library of stock images, some textures, image borders and so on. You could tell the program to give one box style to everyone with 'accounts' in their job title, for instance, and another for everyone in sales.
Sure, the code might win not an beauty contests, but it works fine. But this doesn't mean just the usual graphic squashed into the relevant format. Want to swap it out? Double-click the image. Once you've produced your chart, OrgPlus lets you print it or publish the document to a Powerpoint, Word, PDF or HTML file.
So you have the lion's share of smart functionality while maintaining a simple design paradigm. This kind of thing is pretty much impossible to provide via drag-and-drop unless you're actually running the services elsewhere and the drag-and-drop just links to them. The PDF publishing wizard offers control over layout elements such as box sizes, font embedding, image ompression, cover page and index. Smart Objects tool Even those who've never used OrgPlus before will immediately feel at home, as the interface bears an uncanny resemblance to Office XP. Want five boxes below the current top level, for instance?
There's no laborious click, draw, add lines and repeat here: just click the 'Add Subordinate' button five times, then click the top-level box and OrgPlus will add them for you. What makes WebPlus a joy to use is its convenience: all that stuff can be done in one window. If you do want to write a bit of your own HTML it's easy to do and simple to integrate.